Live Sound
We really enjoy setting up the stage and mixing a band, vocal group, acoustic group, soloists, or others. Our team comes from a live sound / performing background and understands the performer's needs and desires. We can bring out full systems including digital mixer, powered mains, monitors, stands, mics, stands, DI boxes, etc. Or, supplement your setup with additions you may need for a special event. 
Send us your equipment rider or just email and let us know how we can help support your event 
For more information, click on the "Get Started" button below 
We look forward to serving you!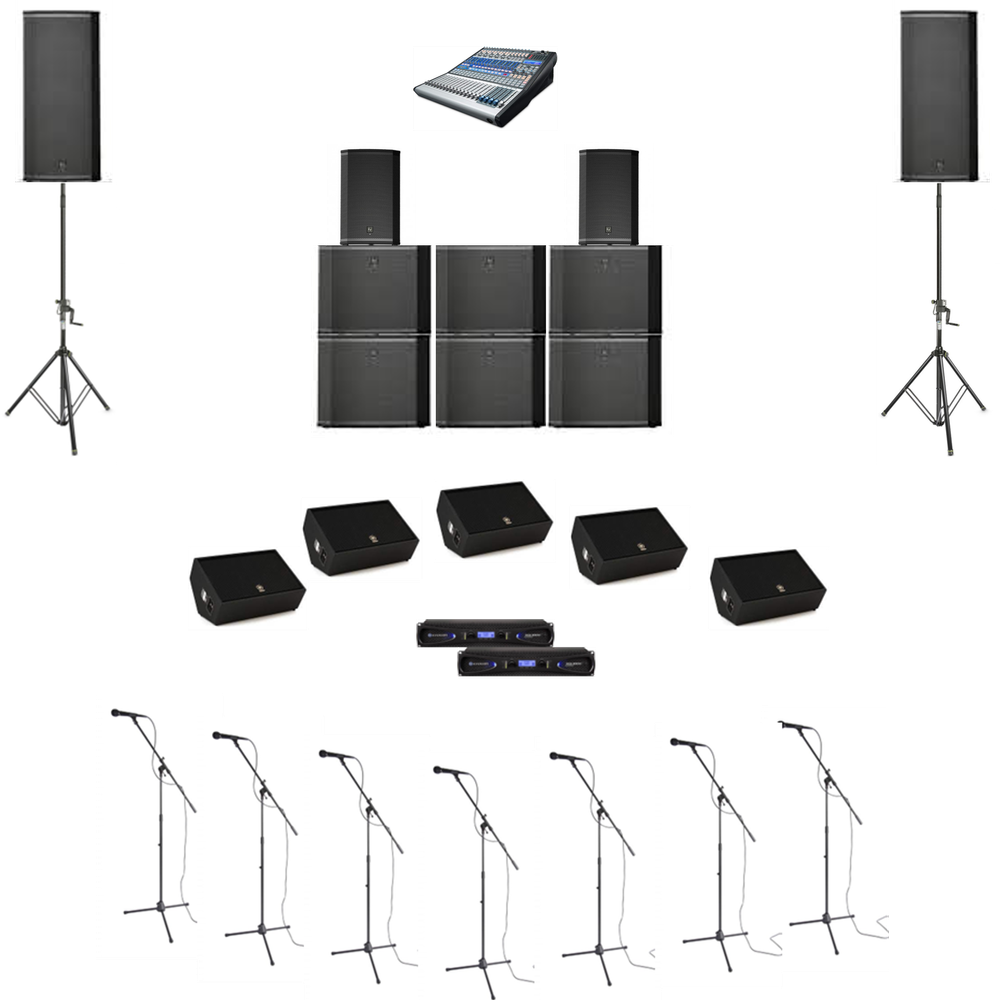 Large System
Recommended for about 500 guests
2 Electro Voice ETX 35P 2000 Watt 3 Way Speakers
2 Electro Voice EKX 12P 1500 Watt Front or Side Fill Speakers
6 Electro Voice ELX 118SP 18" 700 Watt Sub Woofers
5 Yamaha CM12V Passive Floor Monitors With 2 Crown XLS 1002 350 Watt Stereo Power Amplifiers
Presonus StudioLive 16.4.2 Digital Mixing Console
Required Microphones, Stands, DI Box's, and Cabling as required
Sound Events NW LLC reserves the right to substitute with equivalent equipment as required
Pricing to be determined at proposal phase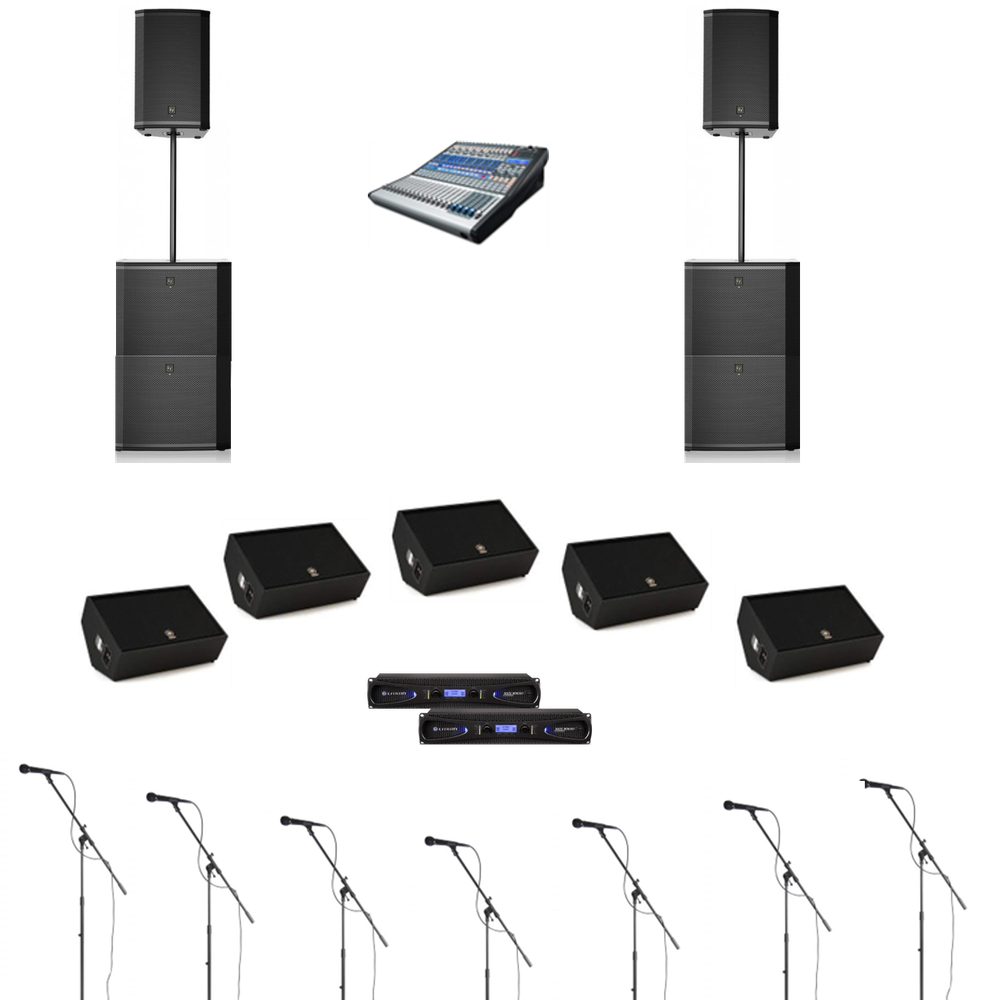 Medium System 4 Subs
Recommended for about 250 guests with stronger sub bass
2 Electro Voice EKX 12P 1500 Watt
4 Electro Voice ELX 118SP 18" 700 Watt Sub Woofers
5 Yamaha CM12V Passive Floor Monitors With 2 Crown XLS 1002 350 Watt Stereo Power Amplifiers
Presonus StudioLive 16.4.2 Digital Mixing Console
Required Microphones, Stands, DI Box's, and Cabling as required
Sound Events NW LLC reserves the right to substitute with equivalent equipment as required
Pricing to be determined at proposal phase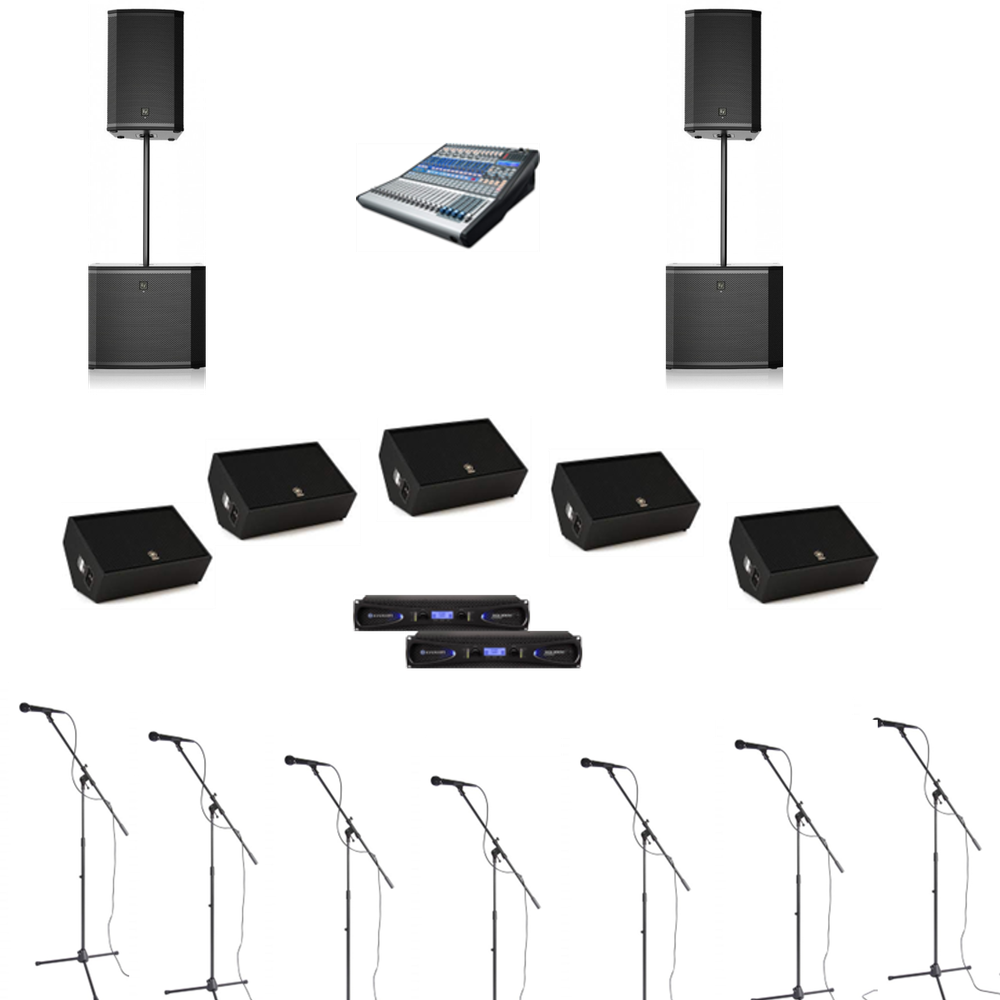 Medium System Dual Subs
RECOMMENDED FOR ABOUT 250 GUESTS WITH LESS SUB BASS, GREAT for Soft rock or jazz
2 Electro Voice EKX 12P 1500 Watt
2 Electro Voice EKX 115SP 15" 1300 Watt Sub Woofers
5 Yamaha CM12V Passive Floor Monitors With 2 Crown XLS 1002 350 Watt Stereo Power Amplifiers
Presonus StudioLive 16.4.2 Digital Mixing Console
Required Microphones, Stands, DI Box's, and Cabling as required
Sound Events NW LLC reserves the right to substitute with equivalent equipment as required
Pricing to be determined at proposal phase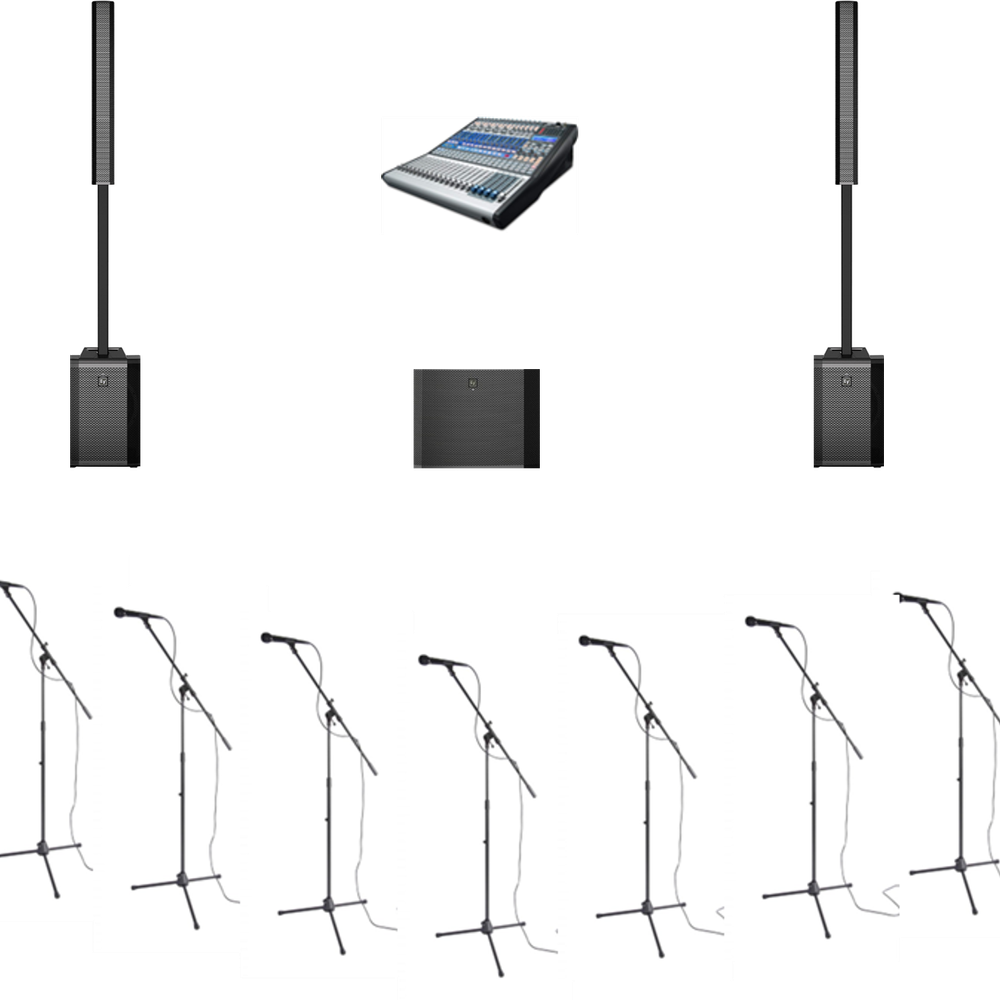 Small-Medium System with Single Sub
RECOMMENDED FOR UP to 250 GUESTS WITH a fair amount of SUB BASS, GREAT FOR SOFT ROCK OR JAZZ
2 Electro Voice Evolve 50 1000 Watt Column Array Speakers
1 Electro Voice EKX 115SP 15" 1300 Watt Sub Woofers
Presonus StudioLive 16.4.2 Digital Mixing Console
Required Microphones, Stands, DI Box's, and Cabling as required
Sound Events NW LLC reserves the right to substitute with equivalent equipment as required
Pricing to be determined at proposal phase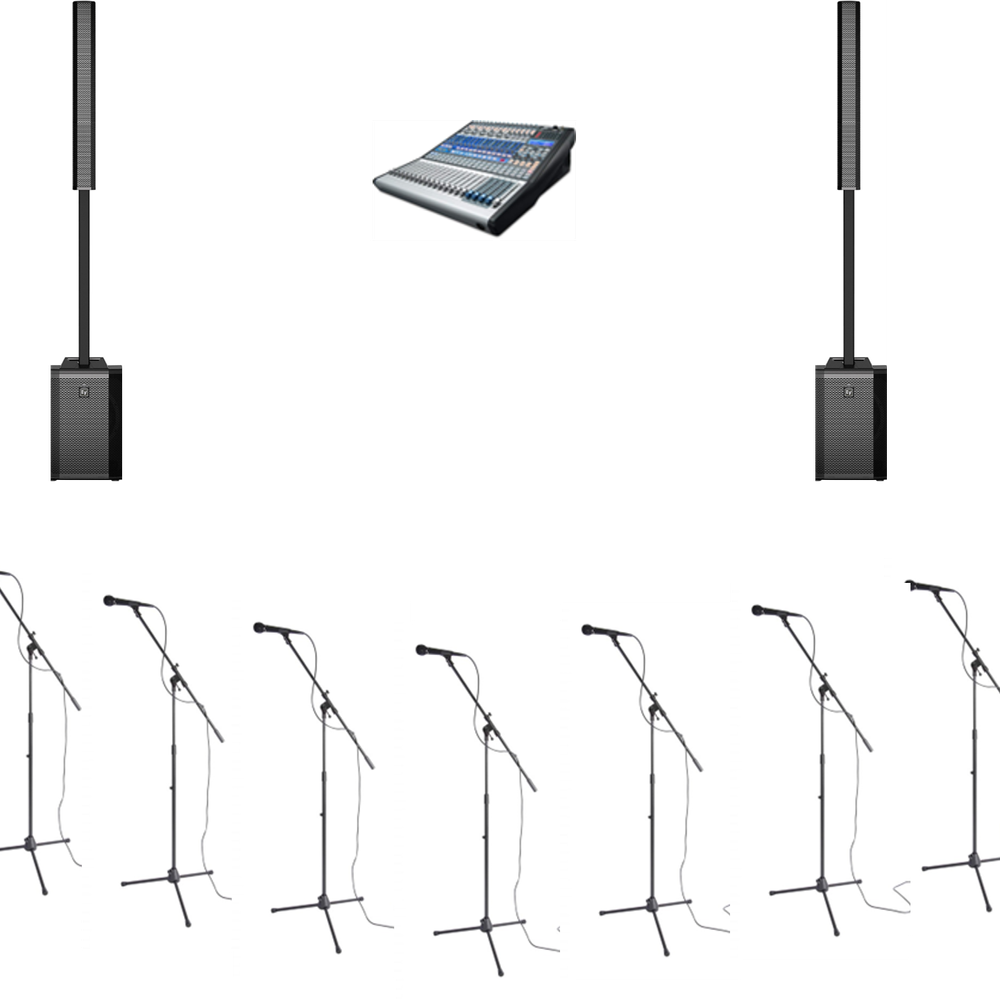 Small-Medium System
RECOMMENDED FOR UP TO 250 GUESTS, GREAT FOR SOFT ROCK OR JAZZ
2 Electro Voice Evolve 50 1000 Watt Column Array Speakers
Presonus StudioLive 16.4.2 Digital Mixing Console
Required Microphones, Stands, DI Box's, and Cabling as required
Sound Events NW LLC reserves the right to substitute with equivalent equipment as required
Pricing to be determined at proposal phase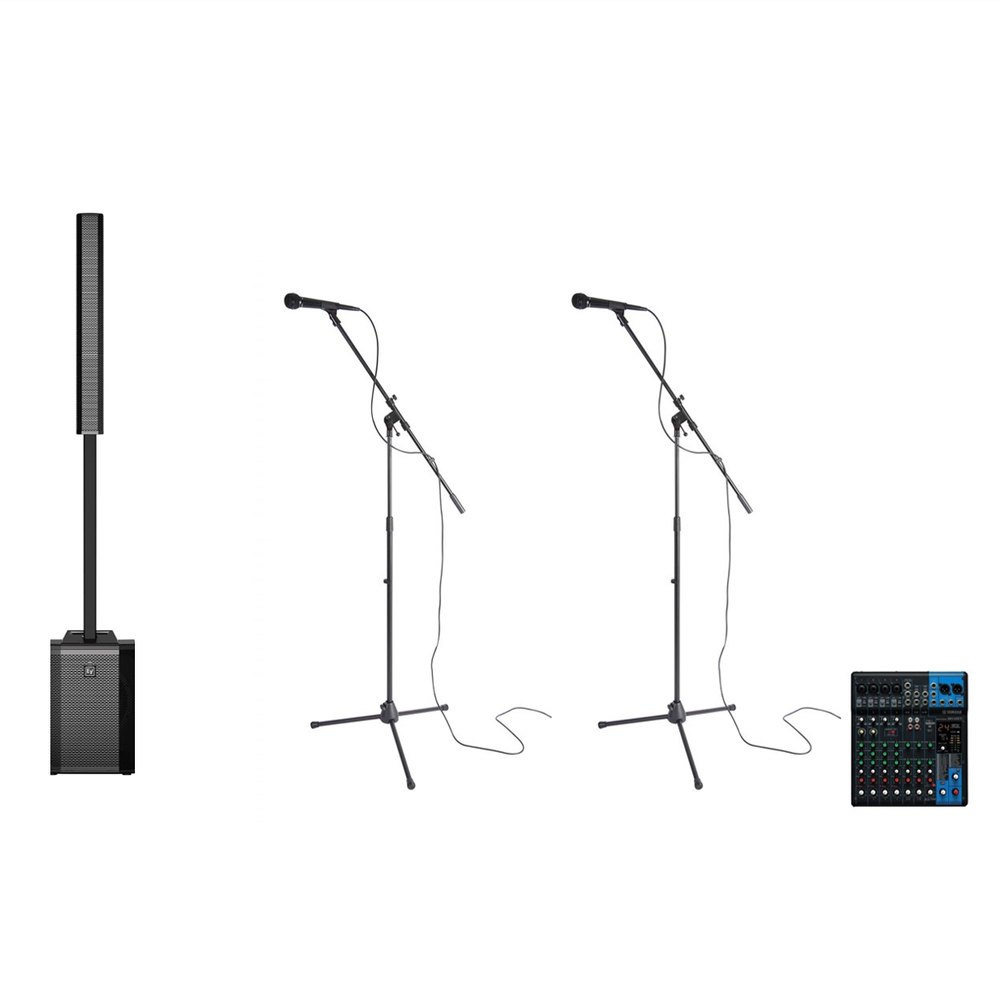 Small Duo System
RECOMMENDED FOR UP TO 150 GUESTS, GREAT FOR SOFT ROCK OR JAZZ
1 Electro Voice Evolve 50 or 30 1000 Watt Column Array Speaker
Yamaha MG10 XU Mixing Console
Required Microphones, Stands, DI Box's, and Cabling as required
Sound Events NW LLC reserves the right to substitute with equivalent equipment as required
Pricing to be determined at proposal phase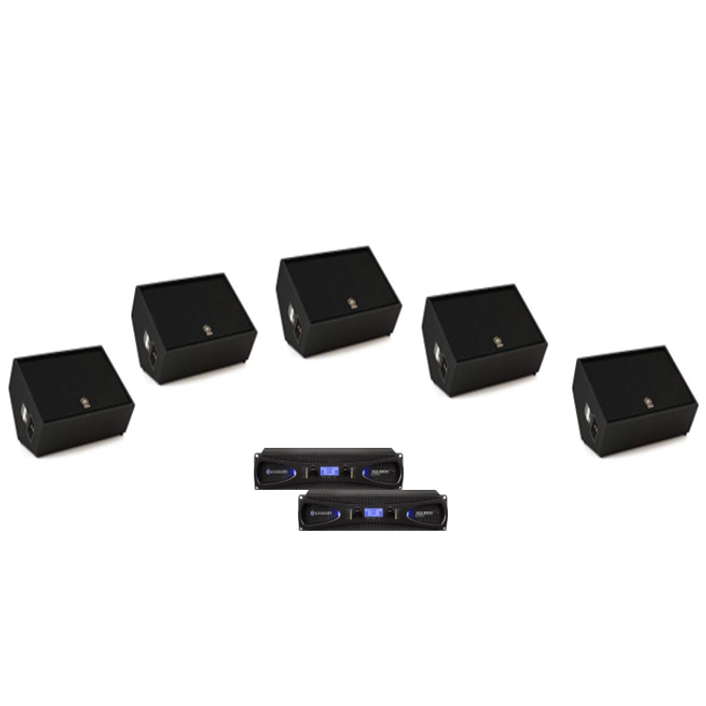 Monitor System
5 Floor Monitors with 2 Stereo power amps
5 Yamaha CM12V Passive Floor Monitors With 2 Crown XLS 1002 350 Watt Stereo Power Amplifiers
Required Cabling Included
Sound Events NW LLC reserves the right to substitute with equivalent equipment as required
Pricing to be determined at proposal phase